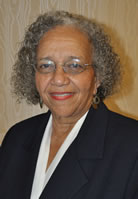 Lois Richardson, President, MBC-LEO
Mayor Pro Tem, City of Ypsilanti

The purpose of the Michigan Black Caucus of Local Elected Officials (MBC-LEO) is to provide a forum for its members to collaborate, network, coach, mentor, share information, and provide support to one another in the State of Michigan. The Caucus works in cooperation with the Michigan Municipal League (MML). Membership of MBC – LEO is comprised of local elected officials and municipal staff members and associates in the State of Michigan.
Building an Inclusive Community - Capital Conference, March 22, 2016
Race & Law Enforcement in the Urban Community - Nov. 14, 2015
Not Yet a Member?
Discover what MBC-LEO is all about!
Click here to download an application>